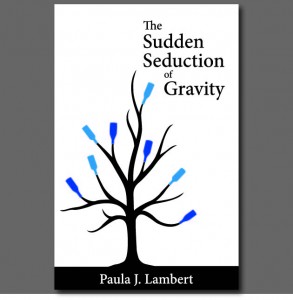 Paula J. Lambert
ISBN-10: 0-9859966-0-9
ISBN-13: 978-0-9859966-0-4
$14.00 plus shipping & handling
Paula J. Lambert writes, "A swift heart can cut you at the knees/take you down, leave you for dead." But in The Sudden Seduction of Gravity, she does anything but leave the reader for dead. Through these intensely personal, often harrowing pages, Lambert speaks to the pain we all too often keep to ourselves: fear, doubt, anxiety, aging, illness. But rather than drown out the darkness with light, she explores and even embraces our pervasive "night sky," exhorting us to "Feel the darkness./Feel the terror. Call it laughter. Call it love." Read these pages and live through the darkness. Read them and be redeemed.
—Tania Runyan, author of Simple Weight and A Thousand Vessels.
The poems in Paula Lambert's The Sudden Seduction of Gravity dance at the edge of an abyss, where "the world opens, a chasm of all that is/possible."  They speak of falling "on our knees over and over and over again" and ask "is it our weakness/or our failing if we use the posture to pray?" Though no single answer is offered, there's a preference here for prayers of praise for what this life has to offer, the pain as well as the pleasure. On their knees or risen to their feet, these poems prefer to sing out with an honest and earned music that can allow you to "Let yourself fall" and "Call it love."
—George Looney, author of A Short Bestiary of Love and Madness and Monks Beginning to Waltz
It is easy to read this collection as a meditation on illness alone, but to do so is to deny oneself the beauty of an inherent strength of will sprinkled with lots of hope. Lambert's ability to make even the worst of it sound like a symphony cycles the reader emotionally through a poetic ringer, leading one through denial, coping, every imaginable trial and ultimately, the joy that comes with survival.
—Scott Woods, author of Watering Hole: Juke Joint Poems and 50 Mistakes Poets Make