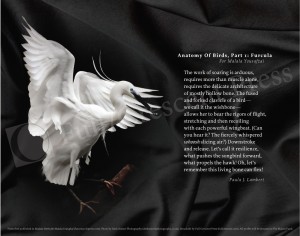 In 2013, Paula J. Lambert's poem "Anatomy of Birds, Part 1: Furcula" was published in Malala: Poems for Malala Yousafzai, a Future Cycle Press Good Works anthology compiled and published to "benefit the cause of educating girls worldwide through the Malala Fund."
Paula wanted to do more to keep the poem in circulation while further benefiting The Malala Fund. Following Future Cycle's "Good Works" example, 100% of profits from sales of this beautiful broadside will be donated to The Malala Fund, further benefiting the cause of educating girls across the world. We would like to thank Diane Kistner of Future Cycle Press for working with us on the project, Sue Demetriou of Dark Nature Photography for use of her beautiful egret photo–which we thought the perfect image to complement Paula's poem–and our own Ali Wade, graphic designer, who also donated her time and expertise to help with the overall design. Truly, all told, this has been a project of women helping women, across the world.
Please Note: When following the order link here, shipping and handling is currently set for U.S. only. For international sales, query paula@fullcrescent.com.