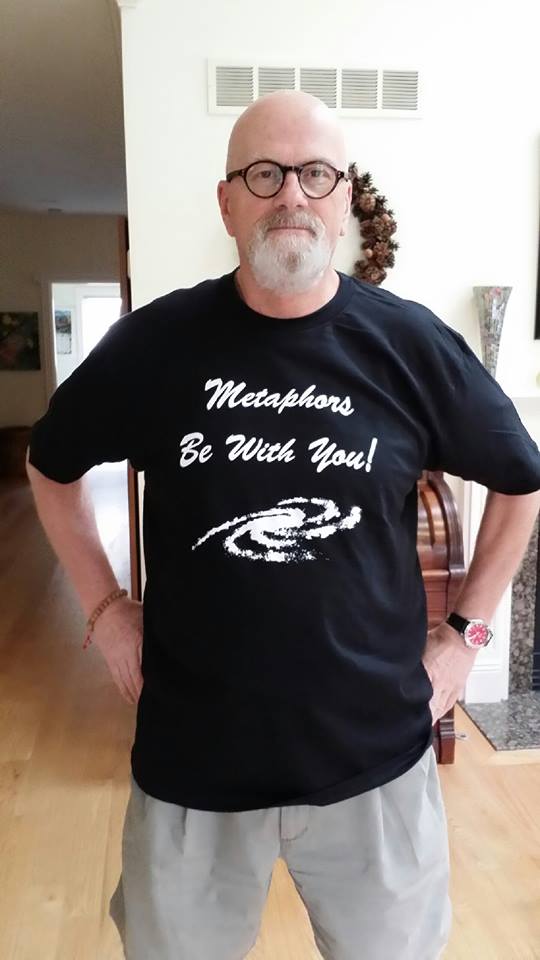 The inimitable Bill Hurley will once again be Master of Ceremonies for our SECOND ANNUAL benefit reading for Perkins Observatory. "Poetry at Perkins: In Celebration of the Night Sky" will be held tonight, May 16th, at 8:00 p.m. Tickets are still available and can be ordered HERE, through the Columbus Astronomical Society. They will also, this year, be available at the door.
We thank Bill–a volunteer docent at the observatory, member of CAS, and terrific poet besides–for all he's done in helping coordinate this event. It's been quite a year for Bill, pictured here with the original T-shirt he designed for the event last year. He's newly married and recently celebrated the completion of cancer treatment by getting on his recumbent bicycle to train for the Pelatonia fundraiser he'll be riding in later this summer. Quite a fellow he is, and a wonderful friend and partner in helping Full/Crescent Press coordinate this wonderful community celebration.
We thank, too, all the poets who have volunteered their time and talents. We are so honored to have, and can't wait to hear, Steve Abbott, Rachel Wiley, Fred Kirchner, Betsy Clark, Aaron Alsop, Sayuri Ayers, Michael Stout and Chiquita Mullins-Lee.
Special thanks, as always, to additional volunteers from CAS, and to the always-great-fun Tom Burns, Director of Perkins Observatory: The Place for Space!
We hope to see you there!