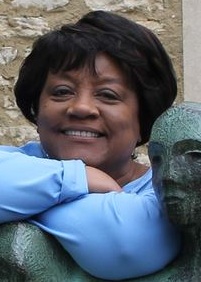 Rose M. Smith is an IT requirements analyst living in Columbus, Ohio. Her works have appeared in Main Street Rag, The Pedestal Magazine, Pavement Saw, Boston Literary Magazine, The Examined Life, and other journals and anthologies. She is author of Shooting the Strays (Pavement Saw Press, 2003) and A Woman You Know (Pudding House Publications, 2005), co-editor of Cap City Poets: Columbus and Central Ohio's Best Known, Read, and Requested Poets (Pudding House Publications, 2008), and a Poets' Greatest Hits series inductee (now managed by Kattywompus Press). She a Cave Canem Fellow and one of the organizers of The Poetry Forum, Columbus' longest-running poetry series.
An inspiring poet and performer, you can see Rose on the stage here at TEDx Columbus 2011.
Note that a book table will be available at the reading, with books available for purchase and signing.
Limited seating available! Buy your tickets HERE to the event–all proceeds benefit Perkins Observatory: The Place for Space!