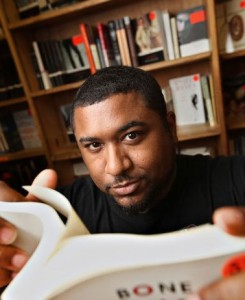 The first poet who will be reading with us at "Poetry at Perkins: In Celebration of the Night Sky!" is a well-known figure in the Columbus poetry scene. Scott Woods is the author of We Over Here Now (2013, Brick Cave Books) and has published and edited work in a variety of publications. He has been featured multiple times in national press, including multiple appearances on National Public Radio. He was the President of Poetry Slam Inc. and MCs the Writers' Block Poetry Night, an open mic series in Columbus, Ohio. In April of 2006 he became the first poet to ever complete a 24-hour solo poetry reading, a feat he bested with six more annual 24-hour readings without repeating a single poem.
Read a sample of Scott's work here, or see the same poem performed here.
Note that a book table will be available at the reading, with books available for purchase and signing.
Limited seating available! Buy your tickets HERE to the event–all proceeds benefit Perkins Observatory: The Place for Space!